For any baseball player, the ultimate aim is to win a world championship. A guy can have All-Star talent, produce at Hall of Fame levels, and win a slew of personal awards, but if, when retirement beckons, there is no World Series ring in the cabinet, his career will always be tinged with melancholic sadness.
Without winning the ultimate prize, there will always be caveat, a qualifier, an imaginary asterisks floating in the public conscience. The player will always harbour deep regrets, because, more than anything else, triumph in the Fall Classic defines success and fulfilment in the world of Major League Baseball.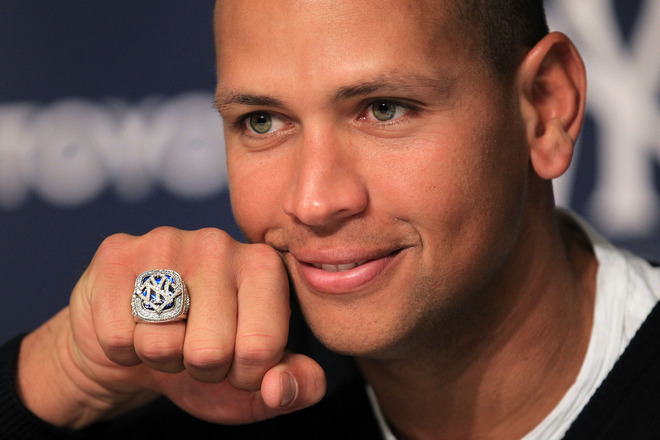 The Holy Grail.
Therefore, an actual World Series ring, awarded to each member of the winning team since the 1930s, is undoubtedly the Holy Grail of America's National Pastime; this almost mystical token of success rivalling the Olympic gold or World Cup winners medals as the most elusive and sacred in all of sport.


Without doubt, winning a World Series championship requires more toil, heart and commitment than almost anything else in the athletic realm, further imbuing the ring with an iconic, mythic quality. Clearly, it can be seen as the definitive accolade.


Omnipotent players: those who won a lot


If the attainment and possession of a World Series ring is the ultimate barometer of baseball success, the greatest players are arguably those with the most hand jewellery. Accordingly, let's take a look at the top twenty players with the most rings, throughout baseball history.


Most World Series rings as a player, all-time top 20
1. Yogi Berra, 10
2. Joe DiMaggio, 9
3. Bill Dickey, 8
4. Phil Rizzuto, 8
5. Frankie Crosetti, 8
6. Lou Gehrig, 8
7. Han Bauer, 7
8. Mickey Mantle, 7
9. Babe Ruth, 7
10. Johnny Murphy, 7
11. Tommy Henrich, 7
12. Herb Pennock, 7
13. Whitey Ford, 6
14. Vic Raschi, 6
15. Allie Reynolds, 6
16. Red Ruffing, 6
17. Joe Collins, 6
18. Lefty Gomez, 6
19. Jerry Coleman, 6
20. Eddie Collins, 6
The first thing that jumps out from this list is the New York Yankees' thorough dominance of baseball history. Of the twenty most-frequent World Series-winning players, the first nineteen won at least one ring with the Bronx Bombers. Moreover, of those nineteen players, all but Ruth and Pennock won
all
of their Series rings with the Yankees, a fact which further illustrates the pinstriped monopoly.
Even by narrowing the timeframe of our search to the past thirty years, the Yankees' penchant for persistent success comes shining through. Here's the list of players with the most World Series rings since 1985.


Most World Series rings as a player, 1985-present, top 15
1. Derek Jeter, 5
2. David Cone, 5
3. Paul O'Neill, 5
4. Andy Pettitte, 5
5. Mariano Rivera, 5
6. Jorge Posada, 5
7. Luis Sojo, 5
8. Ramiro Mendoza, 5
9. Orlando Hernandez, 4
10. Chuck Knoblauch, 4
11. Tino Martinez, 4
12. Jeff Nelson, 4
13. Mike Timlin, 4
14. Bernie Williams, 4
15. Javier Lopez, 4
Thirteen of the aforementioned players won at least one championship with the Yankees, with the majority winning multiple rings in the Bronx. Mike Timlin, a longtime reliever with the Blue Jays and Red Sox, and Javier Lopez, a lefty specialist with Boston and San Francisco, were the only non-Yankees to make the list.
Magnificent managers
In addition to the most successful players, I'm also fascinated by those managers who've won multiple World Series rings. In this regard, let's take a quick glance at the all-time top ten.
Most World Series rings as manager, all-time top 10
1. Joe McCarthy, 7
2. Casey Stengel, 7
3. Connie Mack, 5
4. Walter Alston, 4
5. Joe Torre, 4
6. John McGraw, 3
7. Miller Huggins, 3
8. Sparky Anderson, 3
9. Tony La Russa, 3
10. Bruce Bochy, 3
I find Bruce Bochy's presence on this list extremely intriguing. It really puts his recent achievements with the Giants into sharp historical perspective; their three World Series titles in five years catapulting Bochy into the same echelon as the true immortals of baseball management. That Bruce has been able to tie legendary greats such as La Russa, Huggins and McGraw is a testament to his skill. Bochy is clearly one of the greatest managers who ever lived, and watching him chase the ghosts of Mack, Stengel and McCarthy will be a major thrill in years to come.
Desperate pursuit: those who never won
Such is the regard in which World Series rings are held, and such is the significance of winning a championship in defining a career, every player yearns to triumph in the Fall Classic. When a player reaches his mid-30s and still has no ring to show for years of exertion, desperation takes over. Late in a career, many players yet to win a championship will forgo extra money in the hope of signing with the Yankees or Red Sox and taking one last run at the a World Series mountain. For some, this ploy works. But for many, it doesn't. Accordingly, for the sake of balance, let's take a look at the twenty-five guys who played the most Major League games without even reaching the Fall Classic.
Most games played without a World Series appearance, all-time top 25
1. Rafael Palmeiro, 2831
2. Ken Griffey Jr., 2671
3. Andre Dawson, 2627
4. Ernie Banks, 2528
5. Julio Franco, 2527
6. Billy Williams, 2488
7. Rod Carew, 2469
8. Bobby Abreu, 2425
9. Luke Appling, 2422
10. Mickey Vernon, 2409
11. Buddy Bell, 2405
12. Torii Hunter, 2372
13. Ichiro Suzuki, 2357
14. Sammy Sosa, 2354
15. Jose Cruz, 2353
16. Brian Downing, 2344
17. Frank Thomas, 2322
18. BJ Surhoff, 2313
19. Chris Speier, 2260
20. Andrés Galarraga, 2257
21. Ron Santo, 2243
22. Tim Wallach, 2212
23. Joe Torre, 2209
24. Tony Taylor, 2195
25. Aramis Ramirez, 2194
Unsurprisingly, this list is dominated by the Chicago Cubs, who have infamously failed to win a World Series since 1908 and haven't even competed in the Fall Classic since 1945. Dawson, Banks, Williams, Sosa and Santo all likely rank among the ten greatest Cubs of all-time, but as the list demonstrates, they played a combined 12,240 games without ever reaching the World Series. Such is the tragedy of baseball.
It's also interesting to study a list of
active
players who've waited the longest for a mere opportunity to win a ring. Here are ten contemporary players with the most games played and no World Series appearance to date.
Most games played without a World Series appearance, top 10 active players
1. Torii Hunter, 2372
2. Ichiro Suzuki, 2357
3. Aramis Ramirez, 2194
4. Alex Rios, 1691
5. Adrian Gonzalez, 1648
6. Brandon Phillips, 1608
7. Adam LaRoche, 1605
8. Victor Martinez, 1579
9. Jose Reyes, 1562
10. David Wright, 1546
This list is very surprising, because all ten players were very good during their prime years. However, it just goes to show that baseball is a team game, with a player's fate resting largely in the hands of his teammates.
So, how about this year's postseason? We're currently at the League Championship stage, with teams just a few precious wins away from securing the pennant and advancing to the Fall Classic. The Mets, Cubs and Blue Jays are at this stage for the first time since 2006, 2003 and 1993, respectively, while the Royals are seeking a second successive trip to the World Series. Accordingly, let's take a look at those players still alive in the current postseason who've waited the longest for a shot at the Fall Classic.
Most games played without a World Series appearance, still alive in 2015 playoffs, top 5
1. Alex Rios, 1691
2. David Wright, 1546
3. Michael Cuddyer, 1536
4. Jose Bautista, 1403
5. Edwin Encarnacion, 1353
This list shows just how starved certain franchises have been in the modern baseball era. Bautista has played the majority of his career with the Blue Jays, while Wright is a lifelong Met. Those two teams have struggled for much of the past decade, so it's great that they're finally getting the opportunity to shine on a big stage. As for Rios? Well, the guy just seems to be plain unlucky. He's played for four teams in a twelve-year career, and, prior to this season, never even reached the playoffs! On average, Rios' teams have finished 15 games out of first place, a quite astonishing statistic.
Thus, you're now familiar with the true hard luck stories of Major League Baseball. But one of the great things about this beautiful and beguiling sport is its ability to convey emotion and tell stories of incredible human effort. Accordingly, if your team has already been eliminated, how about rooting for a guy who has never had the opportunity to experience a World Series?
Root for Alex Rios or David Wright, consummate professionals who've given the game so much, and deserve their moment on its biggest stage.
Root for Jose Bautista or Edwin Encarnacion, prolific entertainers who've authored many smiles, but too often in the baseball wilderness.
Root for the underdog, because everyone loves a rags-to-riches story, especially when it comes to the World Series, that most mystical and elusive of prizes.


*All statistics correct at time of publishing. 'Games played' totals do not include postseason play.