The 111
th
World Series will begin tomorrow night in Kansas City, as is seemingly the norm in our post-modern baseball age. Twelve months ago, the hometown Royals played host to the mighty San Francisco Giants at Kauffman Stadium, authenticating a new era in our beloved game. Those upstart Royals were excitable, fresh-faced and raw, a radical by-product of fiscal equality in the Major Leagues. They eventually lost to a sagacious foe in seven attritional games, but, a year on, Kansas City seems wiser and hungrier for the experience. Now, the Royals enter their second straight Fall Classic not as sweetheart underdogs, but as slight favourites over the New York Mets, who have inherited the Cinderella role from their Series opponents.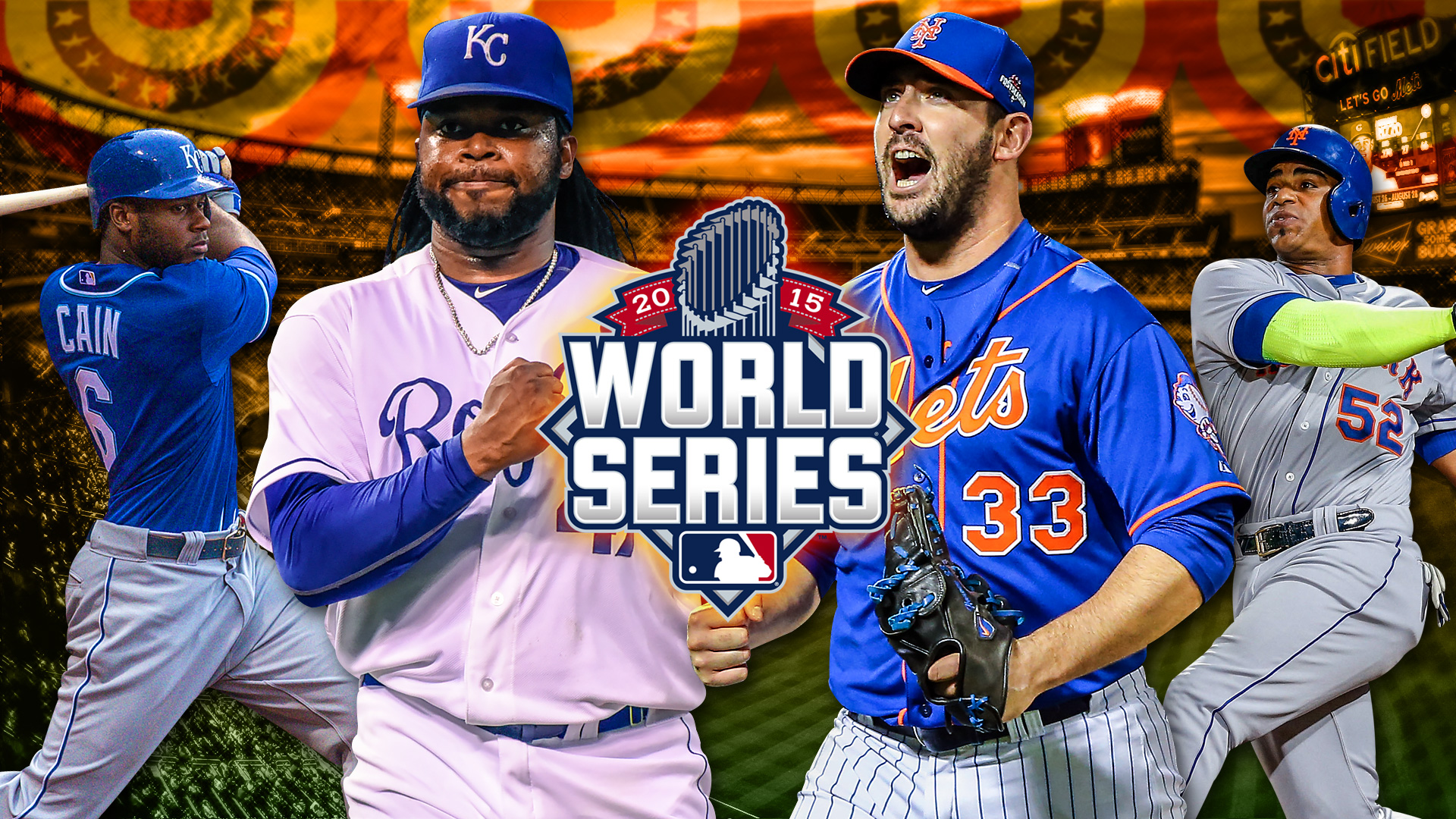 The greatest show on turf. Image credit: Sporting News.
In 2014, Kansas City enjoyed the affection of the baseball-watching world. Their presence in the postseason was novel and refreshing. Their brand of baseball was alive and enthralling. They were fun. Yet, this season, much of that goodwill has eroded, to the point where neutral fans are likely to root against the Royals this time round. Many observers fell out of love with Kansas City as they brawled and sneered their way to another American League pennant, and many believe the innocent swagger of '14 has transformed into an arrogant strut this year.
Accordingly, the Mets will be the darlings of a nation over the next week. There has always been something inherently lovable about New York's "other team," but those feelings are likely to intensify as the Amazins' participate in their first World Series since 2000.
In many ways, the Mets are similar in composition and character to the 2014 Royals. Terry Collins' team is young, precociously talented and set for a long run of sustainable success. Whether 2015 will be the first jewel in a potential dynasty remains to be seen, but this fascinating team bringing energy to Citi Field should make for an irresistible Series.
So, aside from the banner storylines, what are the actual keys to success on the field in this Fall Classic? Well, if this age of parity has taught us anything, it's that baseball is perhaps more unpredictable now than at any stage in history. From one day to the next, one pitch to the next, we're unable to predict the outcome of Major League Baseball games with anything approaching certainty. Thus, attempting to preview the World Series can be a perilous task these days, but let's give it a whirl.
First Pitch Boiling Point
The most important aspect of this Series, and therefore the most crucial in trying to predict an outcome, may be the Royals' offensive proficiency early in the count, and how the Mets combat that. New York has a superlative rotation of mesmeric young pitchers. Matt Harvey, Jacob deGrom, Noah Syndergaard and Steven Matz have ice in their veins and fire in their arms, but, on paper, their collective approach would appear to play right into Kansas City's wheelhouse.
The Moneyball enlightenment placed extreme emphasis on working the count deep and seeing as many pitches as possible to draw walks and wear down opposing starters. However, in our advanced age of specialised bullpens, with more relievers throwing 95-mph or harder than ever before, the incentive for knocking an opposing starter out of the game has been significantly diminished. This year, the Royals have eschewed the old approach of patience in favour of more aggression early in the count, when pitchers are often at their most hittable.
During the regular season, Kansas City ranked 29th of the 30 Major League teams in pitches-seen-per-plate-appearance, while their walk rate was the lowest in all of baseball. However, the Royals ranked 3rd in team batting average, 7th in runs scored, and were the hardest team to strikeout in either league. This speaks to an ultra-aggressive approach early in the count, which, coupled with a tremendous ability to put the ball in play, has fuelled the Royals' success.
In addition to being deadly early in the count, Kansas City is also a phenomenal fastball-hitting team. Indeed, only two teams scored more runs on fastballs than the Royals this year. From a New York perspective, this doesn't bode well, because Met pitchers threw a fastball 61% of the time this season, eighth highest in the Majors. On the surface, it appears that the Royals would have ample opportunity to showcase their greatest strength and deadliest weapon: fastball hitting early in the count.
If we dig a little deeper, those suspicions are confirmed. In his career, Matt Harvey has thrown a first-pitch fastball 63% of the time, and opponents have hit .336 and slugged .565 off of him in those instances. So, basically, when the Royals are most ready to hit, with no balls and no strikes, Matt Harvey is very human. You could even argue he's very vulnerable.
This trend is repeated with Syndergaard, who throws a first-pitch fastball just 38% of the time, but who sees opponents hit .333 and slug an absurd .714 off of those deliveries. Admittedly, Noah has only thrown 247 such pitches at the big league level, which is a less than adequate sample size, but this has to be worrisome for the Mets when mapping a strategy.
Steven Matz also struggles with first-pitch fastballs, allowing a .330 average and .550 slugging percentage, but his sample is even smaller than that of Syndergaard, so we can't read too much into those results. Jacob deGrom, on the other hand, is fairly good at minimising first-pitch fastball damage, with opponents hitting .262 and slugging .410 off of those pitches.
Of course, the Mets will have access to this data. They will know the tendencies of their own pitchers and the strengths of a deceptively potent Royals offence. Therefore, New York may alter its approach and gameplan in a different way, perhaps by throwing more off-speed stuff early in the count to get Kansas City off-balance at the plate. And once Met pitchers have indecision in their opponents, they're truly deadly, ranking 8th in strikeout percentage, 2nd in walk percentage and 2nd in WHIP.
Thus, the outcome of this World Series may hinge on the Mets' ability to nullify the Royals' hitters early in the count, and, subsequently, on Kansas City's ability to take advantage of their opportunities or adjust if they seep away.
Shorten the Game
The Royals' blueprint for success in this Series is fairly well known. In aggressive fashion, they will attempt to ambush the opposing pitcher early and put up runs either by running into a home run from one of their big boppers, or by playing small ball with the speed and selflessness native to Ned Yost's philosophy. The Royals then hope to entrust an early lead to their starter, before passing the baton to a formidable bullpen in the sixth or seventh inning. Kelvin Herrera and Wade Davis are an elite one-two punch that rarely coughs up a lead, so the Mets will be hard-pressed to come back once they're down in the late innings.
Therefore, much like last year, the first six innings of each game in this World Series will be crucial. While tremendously talented, the Mets starting staff can be uneconomical at times, throwing too many pitches and creating high-stress situations. In order to succeed, the Mets need to extinguish the Royals' desire for offensive blood early in the game, and get some length out of their own starters. New York has a very good closer in Jeurys Familia, but the bridge to him is shorter and more precarious than that which Kansas City has built to Davis. There is thus more opportunity for the Mets to slip and drown.
Home Sweet Home
Traditionally, a lot has been written about home-field advantage being less important in baseball, compared with basketball, gridiron and hockey. However, the ability to host the first two games of a Fall Classic always strikes me as crucial. Indeed, 23 of the last 29 World Series champions had home-field advantage, which is pretty compelling evidence.
Of course, the Royals hosted four games in last year's Series, including the pivotal opener and the sudden-death Game 7, but were still unable to win. Accordingly, you could argue that the overarching unpredictability of baseball, especially in modern times, is more powerful than any one individual case of home-field advantage, but I still like the comfort of playing in your own ballpark, with the support of your own passionate fans, twice before even jetting off to the other city. It provides a sacred opportunity to complete half the job in familiar surroundings, which anybody would be foolish not to covet.
Who Wants it More?
Once the postseason winds down and we're left with two teams ready to compete in the World Series, I always like to see which team is hungrier. Obviously, every player years to win. The attainment of a World Series ring is the ultimate reward, the Holy Grail of baseball. But once the pennant is won, I'm eager to see how content each team is. Do they celebrate excessively? How strong is their desire to progress even further? How intense is their will to win it all?
This year, the Mets have to resist the temptation to feel happy with all they've achieved thus far. In spring training, they were written-off. By most estimations, the Nationals were slated to win the division flag by ten, maybe fifteen games. Therefore, that New York should upset the odds and experts by storming to the pennant is a titanic achievement, but also one fraught with peril. The Mets are now the lovable underdog, the fuzzy feel-good story. Yet, they must not enter the World Series thinking they have nothing to lose, that they're just happy to be here. That would be the ultimate death knell. Every opportunity to win a ring is precious, as the Mets' fifteen-year pennant drought attests. Thus, they have a lot to lose, just like the Royals. They must forget what they've achieved in the past, and show that their appetite to write another chapter in the fairytale is equal to that of Kansas City.
Prediction
As outlined above, trying to prognosticate baseball is fundamentally asinine. That's why I believe anybody who actually bets on ballgames should receive a free psychiatric evaluation with their receipt. Anyhow, since it's now fashionable to predict a winner before any major sporting event, here's my best effort:
Royals in six.