The Astros' 20-12 start to the season has surprised the baseball world, and enabled a whole new generation to experience the unadulterated thrill of winning Houston baseball. But, for older, more experienced fans, this latest renaissance is more than a little disconcerting, for it reveals the extent to which we simply no longer recognise this team.
The logo, once iconic, has been transformed into a cheap and nasty mess; the ballpark, once coursing to the vibrant beat of the summer game, now resembles a soulless mall; and the players, once destined for repeated success, now seem as surprised as everybody else that they're even above .500.
Of course, the Astros are baseball's foremost chameleon, seemingly rebranding every couple of seasons. In its 53-year history, the team has had two different names, six different logos, and played at three different stadiums. Moreover, the Astros have changed uniforms with peculiar regularity, and even recently switched from the National to the American League.
Accordingly, unlike the Yankees' record of perpetual success, or the Cubs' identity of consistent ineptitude, the Houston Astros represent entirely different things to entirely different people, largely dependent on age and era. For instance, to the grandfathers amongst us, the word Astros will always conjure images of Rusty Staub and Joe Morgan screeching around the monolithic Astrodome, while, to the fathers, this team will always be synonymous with Nolan Ryan, Jose Cruz, and lurid jerseys of yellow and orange.
Pettitte and Clemens, Astro Aces.
The Astros I grew up watching in the new millennium were an incredibly exciting, entertaining and almost mystical team. They had the irrepressible Lance Berkman, the pesky Craig Biggio, and the classy Jeff Bagwell. They had an enchanting starting rotation, headlined by Roger Clemens, Andy Pettitte and Roy Oswalt. They had a shutdown closer in Brad Lidge, and, in unheralded stars like Brad Ausmus, Morgan Ensberg, and Adam Everett, a dominant veteran core. It was a pleasure to watch that incarnation.

And watch I did. The 2005 World Series, which pitted the Astros against the Chicago White Sox, was the first one I watched in enrapt concentration. To hell with school in the morning, I was staying up through the British night to soak in this most wonderfully beguiling spectacle. I couldn't get enough of baseball after watching that Series and, though the Sox eventually swept it, that Astros team, and that Astros era, will always have a special place in my heart. I will never forget those magical childhood nights watching baseball on my small bedroom TV, live from a cacophonous Minute Maid Park, which made my heart flutter with all its immense eccentricity. Such memories are priceless.

Therefore, what happened to the Astros in subsequent years was deeply saddening. As Bagwell and Biggio retired, and Clemens and Pettitte returned to the Bronx, the heart of Houston baseball began to splinter. However, ownership was famously afraid of embarking on a full-scale rebuild, electing instead to sign costly and ill-conceived free agents in the hope of catching a lucky break and prolonging the team's window of contention. However, in a practical, long-term sense, this strategy served only to deprive Houston of first-round draft picks and, ultimately, drained the organisation of sustainable young talent. Accordingly, by 2010, the bottom had fallen out, with the 'Stros finishing below .500 for the second successive season.
Things got a whole lot worse before they began to get better. As Houston proceeded to lose at a historically bad rate, the few remaining relics of those bygone glory days were traded away. Berkman became a Yankee. Oswalt and Hunter Pence went to the Phillies. Michael Bourn was dealt to the Braves. In 2011, the Astros lost 106 games, a franchise record. Unfortunately, that record would be broken in each of the next two seasons, as Houston lost 107 and 111, respectively.
By this time, the team had a new owner, in local businessman Jim Crane, who agreed to move the team from the National League Central to the American League West beginning in 2013. That year, the Astros also underwent a total rebrand, with the introduction of a classless new logo and a fairly banal array of uniforms, meant to speak to the team's original design. Meanwhile, attendance slipped to just 1.6 million, down almost 1.2 million from the team's lone pennant-winning season.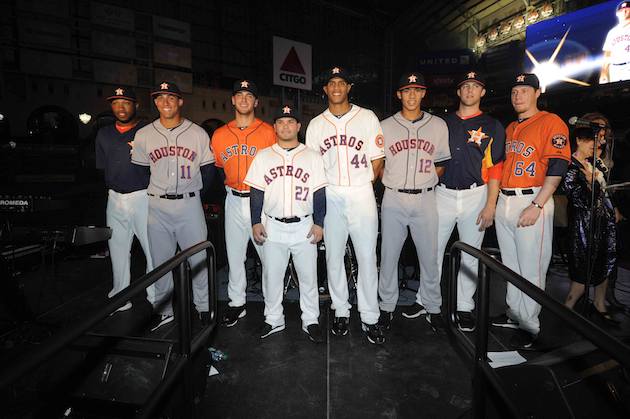 The new, and decidedly uninspiring, uniforms.
In my eyes, the Astros ceased being the Astros when they changed their identity so harshly. I could understand all the losing to procure young talent for down the road, and I could even tolerate Rick Ankiel getting regular playing time in the outfield. But changing the fundamental appearance, face and culture of the organisation stepped way beyond the mark.
Sure, the new logo bears a resemblance to the earliest incarnations, but, nowadays, it simply looks outdated and boring. Moreover, there was nothing wrong with the identity so laboriously established throughout the 2000s. Thus, watching the Astros became akin to watching a new expansion team taking residence in one of your favourite stadiums, which, incidentally, has also been marred by a totally misguided paint job that left it dark and gloomy.
You could argue my mawkishness is somewhat misplaced. After all, the original Yankee Stadium has been demolished; Fenway's Green Monster has been transformed into a giant corporate billboard; and Wrigley Field now bears a Jumbotron bigger than Venus. We live in a different age. But, deep down, I can't suppress that nagging disappointment with the Astros. It's just sad that they couldn't appreciate the richness and authenticity of their own identity. It's just a shame that they ripped it all up and regressed to the soulless norm.
Thus, I've found it immensely difficult to climb aboard the Astros bandwagon this year, and likely never will, because no matter how good this swashbuckling team is, and no matter how far they may go, they will never be the Astros I knew as a baseball-obsessed kid, which is a crying shame.